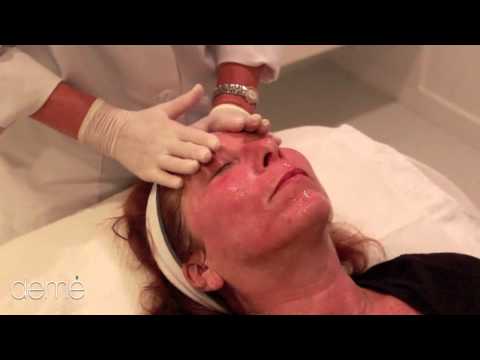 Mother of the Groom, Eileen Cevera came to us at deme to get her skin ready for her son's October 15th wedding. Eileen had been going to a dermatologist to keep her acne in control, but never consulted with a clinical aesthetician to combat her acne scars, sun damage, or rosacea. With only 5 weeks until the wedding and a work schedule that would not allow for down time, Eileen came to the right place. After a consultation with one of  our clinical aestheticians, Jill Ranoia, Eileen decided that 3 laser treatments combining the IPL (Intense Pulsed Light) and Pixel Lasers would be the best option.  We work with many "Mother's of the Brides" and "Mother's of the Grooms" that are in a similar situation to Eileen. They can afford to have downtime and often have a time crunch with their affairs coming up. At deme we customize all of our laser treatments to fit your needs. Please watch the video for more in depth information regarding IPL and Pixel Laser treatments and behind the scenes footage of  Eileen as she works with Jill to acheive wedding ready skin! As with any laser treatment, Eileen's best results will be 3 months after her last treatment. We will update the blog after the New Year when Eileen will be 3 months out from her last treatment, stay tuned!
Eileen really wanted to share her experiences and was kind enough to keep a journal of her experiences throughout her treatments. If you are interested in learning more, or think this might be a good fit for you, please call us at 215.561.3363 to schedule a consultation with one of our skilled clinical aestheticians.
Eileen's Experiences with IPL and Pixel:
My son is getting married in a month and my new daughter =) told me about this new laser treatment available at deme.  I have always been very sensitive about my skin.   Feeling nervous, Jill Ranoia made me feel at ease throughout the whole process.  She explained each step clearly with predictable outcomes as well as constantly checking on my comfort level.  She demonstrated her knowledge of the equipment she used and the products applied.   Her extreme professionalism was apparent throughout the whole process.
First Treatment with Jill Ranoia
Day 1 – 9/10/11
The first step involved a cool numbing of the skin.   For the next step, I felt little blasts, like "pricks "on the skin.  The final step repeated the same kind of sensation with lights.  At no point did I feel pain, only a funny sensation as my brain anticipated the next "tiny blast".
Evening – I applied the creams as directed.  I experienced the reaction Jill explained.  There were waves of what felt like sunburn, but there were no problems.
Day 2 – 9/11/11
As Jill predicted, this morning my skin showed the dark areas with more definition.  Other than my skin appearing "reddish" and feeling a little tight, I felt great.   Jill called to check in (as I was being helped in the deli), and left a message.  I applied the creams just a couple of times when my skin felt dry.  Jill called again in the evening to check in and let me know that she is available at any time.  How nice is she!
Day 3 – 9/13/11
I awoke with no pain at all.  I noticed the dark areas on my face with "screen like" prints.  How funny!  As the day progressed at work, I could feel my skin tightening and becoming drier.  I applied the creams and became prepared for the next step!!! Peeling……
Day 4 – 9/13/11
This morning I woke up to "sandpaper" skin, just as Jill said I would.  The hot shower felt great and my skin began to flake off.  It didn't itch, just flaked off.  The color of my complexion was reddish, but no pain experienced.  I began the scrubbing process with gentle soap.  As I scrubbed, the dark areas of my skin began to disappear.  It is funny that Jill was so accurate in her description of the process.  At each stage, I could hear her explaining each outcome, and that made me feel so comfortable.
Day 5 – 9/14/11
I started my regular regimen today (facial scrub and RetinA) and my facial skin continued to flake off.  As the workday progressed my skin became oily and some of the acne seemed to surface.  I scrubbed with each cleaning and applied the creams.  All the tiny dark dots on my face are disappearing.
Day 6 – 9/15/11
Today I had hardly any flaking and I can tell the difference in the texture of my skin. It feels smoother and some of the acne scars, imperfections, and lines are softer.  OH YEAH!!
Day 7 – 9/16/11
1 Week to better skin!  I'm really happy with the results.  Jill provided me with a truly positive experience.  I look forward to seeing her again soon for more advice!  Now, I can ease my "skin embarrassment" at my son's wedding, thanks, deme!
Second Treatment with Jill Ranoia
Day 1 – 9/24/11
Jill was ready to address my rosacea.  I didn't even know I had Rosacea until I began to see a dermatologist a few years ago.  Jill was a wealth of information about this condition and explained to me that it will never go away, but I can keep it under control.  She said this is irritated by extreme hot and cold, spicy foods, and alcohol consumption.  (Oh no!) She numbed my skin and began to shoot the little blasts of light and heat into my face.  Again Jill prepared me for the sensations.  I only felt sensitivity in the cheekbone area, where Jill worked a little deeper. In a couple of hours I started to feel as if I had sunburn.  This continued into the night.  My cheekbones were a little swollen, showed redness and ached in waves.  I applied ice for short periods and this seemed to help.
Day 2 – 9/25/11
This morning I had redness and a little puffiness in the cheekbone area.  Throughout the day I experienced periods of achiness, but nothing major. I noticed the sun damaged areas of my face appeared light brown, like a freckle.  Jill called to check in and reassure me, I can't get over how thoughtful she is.
Day 3- 9/26/11
I started my regular routine today with the sulfur wash and Retin A.  My makeup covered the slight redness in my cheekbones =).   I felt fine at work with no pain.
***As the week progressed, the swelling and redness disappeared.   I could really feel and see the improvement in the texture of my skin.  I'm getting so excited about the wedding!  I hope my stress level won't affect my skin too much!!
Third Treatment with Jill Ranoia – 10/8/11
Jill delivered the treatment like before, with my comfort level foremost.  Aware of the sensation, I felt prepared.  The treatment went faster and I was done in a "flash".  As the day progressed I felt a little swollen in the cheekbone area, but spent the day shopping with the groom-to-be.  By Day 3, I was back to normal.
In summary I just want to say that my experience at deme is one I will always treasure and appreciate.  Jill gave me wonderful information, caring treatments and aftercare, and a new found confidence I never thought I'd feel this way in regards to my skin. I'm so excited about the upcoming wedding!! Thanks again deme for everything!!